Tens of thousands of protesters have held a massive rally again in Tel Aviv in the occupied territories against controversial judicial reforms planned by the Israeli regime's Prime Minister Benjamin Netanyahu.
Saturday's demonstration was the largest so far since Netanyahu returned to power last month at the head of the most right-wing cabinet in the regime's history.
More than 100,000 people took part in the anti-Netanyahu demonstration, with participants warning that his extremist cabinet's proposed judicial reforms were set to give the regime more control over appointments in the judiciary.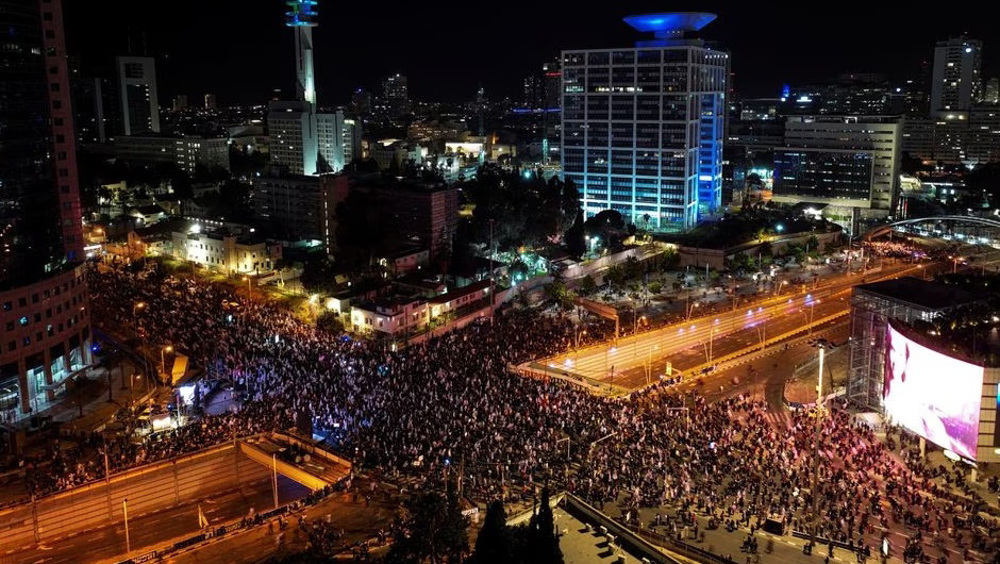 The planned reforms, they said, were also set to curb the ability of the regime's supreme court to nullify decisions made by the Israeli cabinet or Knesset (the regime's parliament).
Netanyahu has dismissed the protests, which are now in their third week, as a refusal by leftist opponents to accept the results of last November's election, which produced one of the most extremist cabinets in the regime's history.
The protesters maintain that in addition to threatening the independence of judges and weakening oversight of the cabinet, Netanyahu's proposed reforms will open the door to more corruption.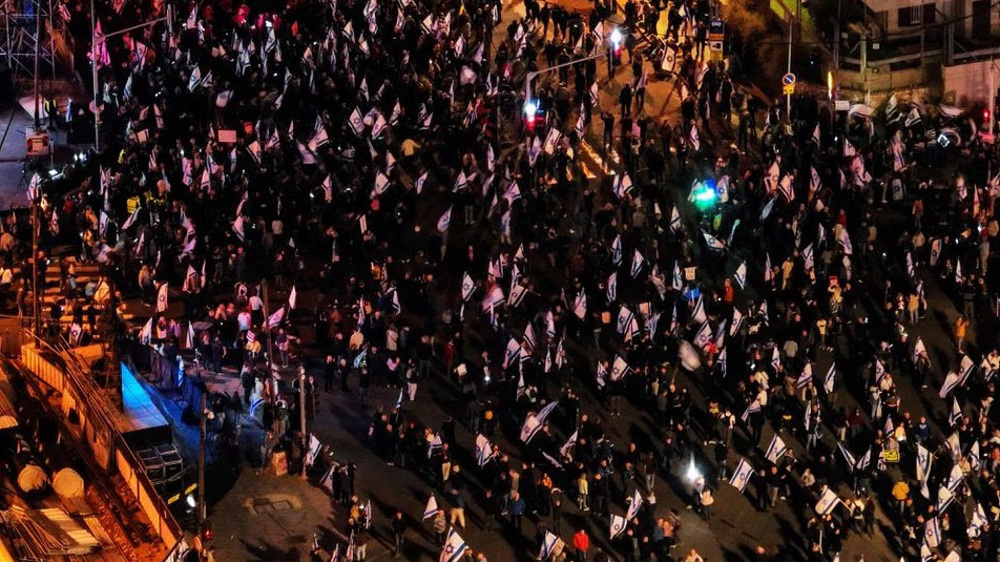 Former Israeli prime minister, Yair Lapid, also joined tens of thousands of protesters in the Saturday rally.
The Tel Aviv demonstration also drew opponents to Israel's occupation of the Palestinian territories, as many cabinet members are ardent supporters of settlement expansion across the West Bank.
The 73-year-old prime minister has already released a policy statement on the part of his cabinet, calling expansion of the settlements across the occupied Palestinian territories a top priority.
Netanyahu's Likud party claims that the reforms are needed to hamstring the Israeli judiciary's leftist judges, saying they have been encroaching on areas outside their authority for political reasons.
In order to secure the loyalty and partnership of the extremist political parties, Netanyahu has pledged to further their desired agendas.
Meanwhile, the premier's own legal woes continue at court where he is fighting corruption charges.
Netanyahu was indicted for receiving bribe, fraud, and breach of trust during the twilight of his previous mandate as premier in 2019.
He refused to step down during the same year, when he became the first sitting Israeli prime minister to be indicted while in office.
His opponents consider the judicial reforms also as a means for him to circumvent the repercussions of his corruption scandal.
Saturday's protest also came days after the supreme court ordered the premier to fire interior minister Aryeh Deri, who leads the Shas party, over a recent tax conviction.
The court ruled that Deri's appointment was "extremely unreasonable," coming only months after he was fined and relinquished his parliamentary seat.