Egypt's foreign minister has arrived in Damascus in the first such visit by a top Egyptian diplomat since the foreign-sponsored militancy started in Syria more than a decade ago.
Sameh Shoukry met with Syrian President Bashar al-Assad at the presidential palace on Monday, reaffirming his country's solidarity with Syria and its preparedness to continue supporting Syrians in the aftermath of the devastating February 6 earthquake, Syria's official news agency SANA reported.
He also conveyed Egyptian President Abdel Fattah el-Sisi's greetings to the Syrian leader, and called for further development of long-established and friendly relations between the two countries
Shoukry described relations between Cairo and Damascus as essential for protection of the Arab world against potential threats and challenges, stressing that Egypt will always support any initiative that could help Syria and would serve the interests of all Syrians.
Assad, for his part, underlined the historical significance of Syrian-Egyptian relations, emphasizing that promotion of diplomatic ties among Arab countries will actually improve living standards of Arabs.
He also appreciated Egypt's warm welcome of Syrian refugees following the outbreak of the foreign-backed crisis in his country, stating that such a behavior attests to the strong ties that already exist between the two nations.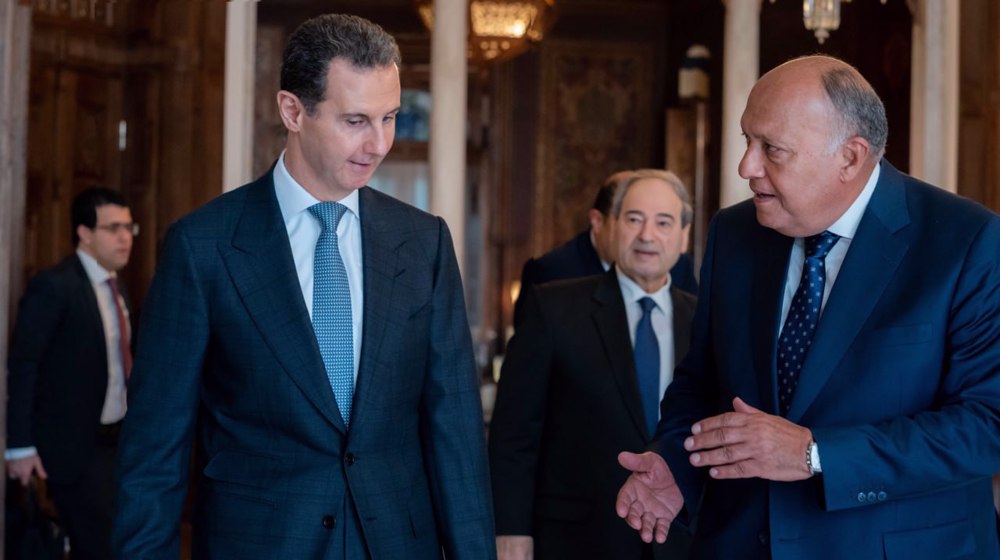 "The goal of the visit is primarily humanitarian, and to pass on our solidarity – from the leadership, the government and the people of Egypt to the people of Syria," Sameh Shoukry told reporters upon arrival in Damascus.
Egypt was looking forward to providing more quake assistance "in full coordination with the Syrian government," after already having donated some 1,500 tons so far, Shoukry added, standing alongside his Syrian counterpart Faisal Mekdad.
"When the foreign minister of Egypt comes to Damascus, he comes to his home, his people, and his country," Mekdad said.
The development comes only a day after several Arab parliament speakers and high-level legislators arrived in Damascus to restore Syria's membership in the Arab League, which was suspended nearly 12 years ago due to the country's foreign-sponsored conflict.
The lawmakers were received by Syria's Speaker of the People's Assembly Hammouda Sabbagh, who stated that Syria's return to the Arab diplomatic fold is crucial for any joint Arab action to confront current challenges and crises.
Calls for Syria's return to the Arab League have grown stronger after the devastating earthquake that hit the country earlier this month.
Iraqi Council of Representatives Speaker Mohammed al-Halbousi on Saturday urged all Arab countries to adopt a final decision on Syria's return to the Arab diplomatic fold, while Jordanian Minister of Foreign Affairs and Expatriates Ayman Safadi stressed the importance of Syria's return to the Arab League to act as an active and effective member in decision-makin
Last week, Syria's President Bashar al-Assad visited Oman and met with Sultan Haitham bin Tariq Al Said.
Oman was one of the few Arab states to maintain diplomatic ties with Damascus after the breakout of the foreign-backed militancy in the Arab country in March 2011, in spite of pressure from the United States and other Persian Gulf allies.