Citing "rising crime and vagrancy," Chase Bank has shuttered 24-hour access to some of its New York ATMs.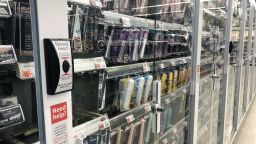 Stores say shoplifting is a national crisis. The numbers don't back it up
Select ATM vestibules are closing at 5 pm or 6 pm, aligning more closely with normal branch hours, the bank tweeted in response to a complaint last week. A JPMorgan Chase (JPM) spokesperson said some other ATMs are closing at 10 pm.
The changes affect only a "small number" of the machines, according to the bank, which did not specify which and how many ATMs no longer provide 24-hour service. Chase has several hundred branches in New York.
"We review our ATM hours on a case-by-case basis and for a variety of reasons may decide to temporarily close some overnight," Chase said in a statement to CNN.
New York City mayor Eric Adams addressed the ATM early closures at a press conference Monday.
"People don't want to walk into the ATM and see someone urinating… see someone screaming and yelling," Adams said. "And that is what I'm saying I need to stop because I don't want my ATMs closing down. I don't want people leaving our city. We have to create an environment that people are safe and feel safe."
Some New Yorkers are not happy about the change.
"Are you going to refund the ATM fees to customers when we get ripped off to use a bodega ATM to pay for our late night slice of pizza, because you can't provide a basic service to account holders?," one customer tweeted.
Major retailers have been vocal about surges in theft and "organized retail crime" since the pandemic began. Some began locking up toiletries and others added more security detail.
But it may not hold true – at least to the extent retailers claimed over the past three years.
Walgreens finance chief said "maybe we cried too much last year" about merchandise losses during an earnings call in January. Its rate of shrink, or merchandise losses due to theft, fraud, mis-scanned items and other errors, fell one percentage point to 2.5% during its latest quarter.
Researchers say stores may be quick to blame theft for retail shrink when it may not actually be the case.
"Ensuring the safety and security of customers and employees has always been a top priority of the banking industry," the New York Bankers Association said in a statement. "As issues arise, NYBA and our members evaluate possible trends with the intention of working with banks, law enforcement and the local community toward solutions."
Overall crime in NYC was up 23.5% in 2022, though shootings and homicides have decreased over the past year, Mayor Adams announced in December.