Novak Djokovic says winning a 10th Australian Open to equal Rafael Nadal's record 22 Grand Slam men's titles is "the biggest victory" of his life.
Djokovic, 35, beat Stefanos Tsitsipas in Melbourne having missed last year's event after being deported because of his Covid-19 vaccination status.
He also had to deal with a hamstring injury and a row involving his father.
"Only the team and the family knows what we have been through in the last four or five weeks," said the Serb.
"I would say this is probably the biggest victory of my life, considering those circumstances."
Djokovic was overcome with emotion after sealing a straight-win over Greek third seed Tsitsipas on Rod Laver Arena.
After climbing into the box to celebrate with his team and family, he broke into tears and laid down in the middle of them as the magnitude of his achievement hit home.
Djokovic continued sobbing under his towel when he returned to his chair on the court.
The win sees him return to world number one for a record-extending 374th week from Monday.
How Djokovic overcome distractions to regain crown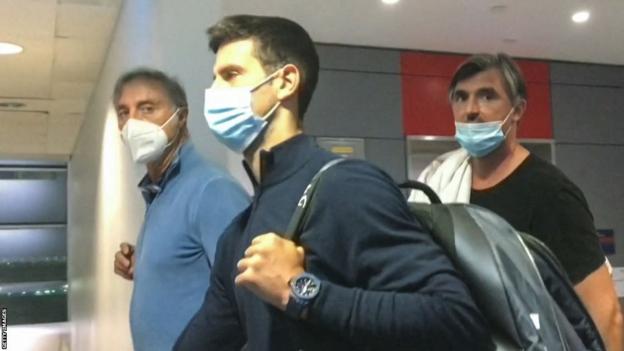 Twelve months ago, Djokovic was not allowed to play after being deported from Australia following the coronavirus saga which eventually led to his visa being revoked after a court case.
After being allowed back to play at Melbourne Park this year, he had to overcome more adversity.
The hamstring issue was particularly problematic in the earlier part of the tournament, with his coach Goran Ivanisevic saying "97% of the other players" would have withdrawn injured.
"If I turn back the time two and a half weeks ago, I wasn't really liking my chance in this tournament with the way I felt with my leg," said Djokovic.
"Then it was just a matter of survival of every single match, trying to take it to the next round.
"The good thing about the Grand Slam is you have a day between the matches, so it allowed me to have more time than normal to get myself in somewhat of a good state to play and eventually win."
Djokovic also had to deal with controversy surrounding his father Srdjan – who was photographed with supporters of Russian president Vladimir Putin – before Friday's semi-final against American Tommy Paul.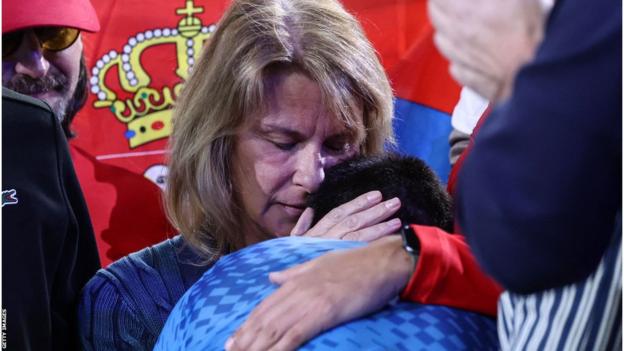 Srdjan Djokovic decided to stay away from the semi-final because he did not want to be a "distraction" and also watched the final from outside Rod Laver Arena.
"We both agreed it would probably be better that he is not there. That hurts me and him a lot because these are very special, unique moments," Djokovic said.
"He was a bit sad. In a way I'm sad that he was not there in the stands. But he was throughout the entire tournament, so it's fine. In the end we have a happy ending."
Despite those distractions, and a second-set wobble when he became irritated with his coaching team, he played imperiously in the key moments to regain the crown which he was unable to defend last year.
"I have to say this has been one of the most challenging tournaments I have ever played in my life considering the circumstances, not playing last year, coming back this year," said Djokovic.
"I want to thank all the people who made me feel welcome, made me feel comfortable to be in Melbourne and to be in Australia. There is a reason why I have played my best tennis throughout my career in this arena.
"I try to pinch myself and really live through these moments. It's a long journey."
Ivanisevic, who said Djokovic was "from outer space" when discussing the level of his play, is looking forward to the rest of the season as his player and Nadal continue to contest the men's major record.
He added: "Battle of Spain against Serbia, it's like a handball match. 22-22 for the moment. Now it's going to be interesting this year."
The next Grand Slam is the French Open, where Nadal is the defending champion and has won 14 titles overall, starting on 28 May.
I am a born champion – Tsitsipas remains upbeat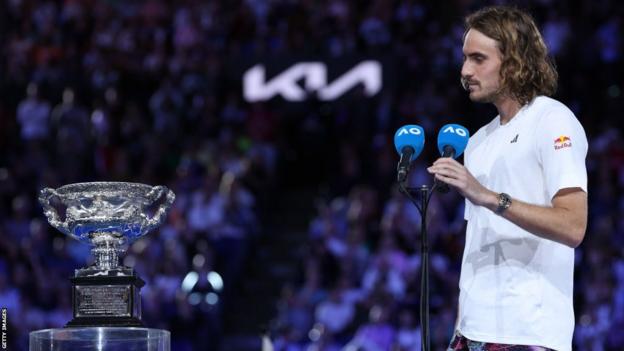 Tsitsipas, 24, was left to reflect on another defeat by Djokovic in what was his second major final and insisted he has what it takes to eventually become a Grand Slam champion.
The Greek, who was seeded third at Melbourne Park, led by two sets when the pair met in the 2021 French Open final before Djokovic fought back to win.
This time, he was not allowed to gain the advantage against a locked-in Djokovic.
Tsitsipas described the loss at Roland Garros as "heartbreaking" but was much more upbeat after Sunday's defeat.
"It's my time to aim for something like this," he said.
"I don't see any reason to be lowering my expectations or my goals. I am born a champion. I can feel it in my blood.
"I can feel it as a competitive kid that I was when I was young. It's something that is within me.
"I want to harvest that, make it bloom, make it even stronger and fonder, work hard towards those goals."