The Canadian women's national soccer team has called off its strike and resumed training after the sport's governing body Canada Soccer threatened legal action, players said on February 11.
A day earlier, captain Christine Sinclair told Canada's The Sports Network (TSN) that the team was going on strike following cuts to its program and pay equity concerns.
In a statement posted on Twitter, the Players' Association said that Canada Soccer considered the strike "unlawful," and that players "cannot afford the risks that personal action against us by Canada Soccer will create," as they "have received no compensation yet for any of our work for Canada Soccer in 2022."
Canada Soccer said in its own statement that it "respects the players' right to organize" but that players "were not and are not in a legal strike position under Ontario labor law."
It added that it was "not prepared to jeopardize" the upcoming SheBelieves Cup, the team's preparations for the Women's World Cup in five months and the experiences of "countless fans."
Canada, the reigning women's soccer Olympic champion, is scheduled to face the United States Women's National Team (USWNT) on February 16 in its first match of the SheBelieves Cup.
"To be clear," Sinclair tweeted. "We are being forced back to work for the short term. This is not over. We will continue to fight for everything we deserve and we will win. The She Believes is being played in protest."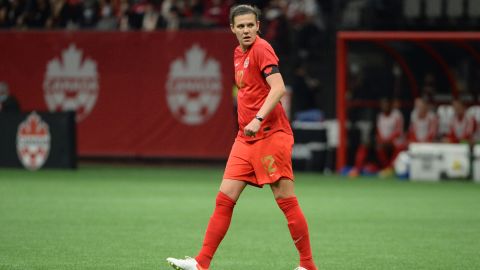 Captain Christine Sinclair was part of the gold medal winning team.Anne-Marie Sorvin/USA Today Sports
Representatives from the Players' Association met with Canada Soccer for a meeting on Saturday, both parties said.
Canada Soccer added that it has committed to negotiating a comprehensive collective agreement with both the Women's and Men's National Teams which "will be an historic deal that will deliver real change and pay equity."
The players said in a February 10 statement that they had been negotiating with Canada Soccer for more than a year and are now "being told to prepare to perform at a world-class level without the same level of support that was received by the Men's National Team in 2022."
Training camps have been cut for the women's team, as well as the number of players and staff invited and the already limited youth program, the players' statement said.
"We expect and deserve nothing less than to be treated equally and fairly and to have our program – and our World Cup preparations – funded appropriately," it added.
CNN reached out to Canada Soccer and Sport Canada for comment on Saturday but had not received a response by the time of publication.